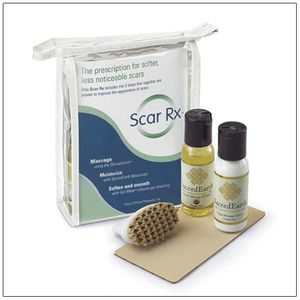 3-Point Products ScarRX is a prescription for softer, less noticeable scars.

This system offers the 3 components of optimal scar recovery: Moisturizing, Mobilizing and Applying Gentle, Even Pressure

Moisture:
Sacred Earth Botanicals lotion and Sacred Earth Botanicals Oil.

Unscented, hypo-allergenic and paraben free.
Provides excellent glide and drag for deep tissue massage
Rich with vitamin E, essential fatty acids and Certified Organic Oils.
Movement and Mobility
SkinSational Deep tissue massage and scar mobilization.

Massages and mobilizes scars comfortably with a soft, rubber head that gently mobilizes scar tissue.
Comfortably massages oils or lotions into scarred area to promote the reduction of discoloration and discomfort.
Relieves adhesions and aids circulation for faster healing with smoother, more pliable skin.
Gentle Pressure
Gel Mate Silicone Gel Sheet for Scarring Pad

Contains medical grade silicone that helps the scar remain moist during the healing process
Helps reduce adhesions, redness and prevent hypertrophic scars.
Stretches skin comfortably and helps area heal smoothly.
Self-adheres so no tape is necessary
Sheet trims easily.
Washable and reusable, can last for months with proper use and care
NOT FOR USE ON OPEN WOUNDS


See FAQ for more information