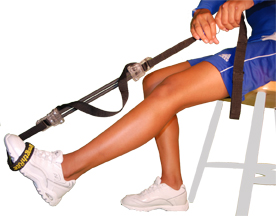 StrengthRite is unlike any ankle strengthening solution available today.

This Product has been discontinued.

Developed with the input of medical professionals, the StrengthRite delivers more than simple straps or bands. It provides a variety of ankle stretches and strengthening exercises which help to increase strength, prevent injury, speed recovery and reduce pain.

Innovative - Provides an innovative solution for the rehabilitation from and prevention of ankle (high and regular ankle sprains), shin splints, plantar fasciitis, calf and Achilles tendon injuries.

Versatile - Restores stability, strength, range-of-motion and balance through exercises that can be tailored to meet you individual needs. Exercises can be done in seated, standing or floor positions.

Adjustable - Solves the need for progressive levels of stretching and strengthening. There's no need to change bands and no loss of resistance due to over use. The unique patent pending design enables you to adjust tension for varying levels of resistance and different areas of focus.

Safe - Combines a durable webbing strap in a unique design that eliminates the snap-back effect of simple bands.

Comfortable - Designed with ergonomic, easy-to-hold plastic grips so it's comfortable to hold but can also be fastened to desk, chair or door for hands-free usage at work or home.

Portable - Weighing less than a pound and folding to the size of a water bottle it can conveniently be taken in a purse, gym bag or backpack to the office or clinic to be used daily, even several times a day.